WE ARE R.H Pardy Moving & Storage LTD
Here at R.H Pardy Moving & Storage LTD we pride ourselves on offering a professional removals service in Ferndown for both residential and commercial customers. Our experienced team of removal experts provide a comprehensive service that includes the safe packaging, storing and transportation of all your possessions. 
Our team will always carry a complete range of packaging materials, that allow them to guarantee the safe transportation of even the most fragile items. If you are looking for a trusted removals company in Ferndown we are here for you. Our complete removals and packing service in Ferndown includes:
Domestic and Commercial removals

Full & part loads across the UK and Europe

Worldwide shipping service

Professional packing services if requested

Packing materials sales

Secure short-term and long-term storage
Removal Solutions For Any Property.
A Removal Company in Ferndown That You Can Trust
Here at R.H Pardy Moving & Storage LTD, removals we pride ourselves on delivering a complete storage and removals service in Ferndown to clients from both the commercial and domestic markets. We have been offering a reliable, affordable and effective removal and packaging service since becoming established in 1924. As a result, we have gained a reputation for outstanding customer service that is unrivalled among our competitors. 
You can rest assured that your possessions will be safe with us. Having been trusted by clients to store valuable personal and business items for the last 97 years, you can be safe in the knowledge that your possessions are in safe hands with us. Here at R.H Pardy Moving & Storage LTD, we are proud to be regarded as one of the most trusted removals and storage companies in Ferndown. We can provide quotations that are tailored to match the exact needs of the individual client. So, whether you require long or short term storage, or an industry-leading removal service call our team today. 
Here at R.H Pardy Moving & Storage LTD, we have the skills, knowledge and equipment to ensure your home or business move goes smoothly. Irrespective of the size and scope of your relocation our professional team will coordinate everything to ensure your move is completed on time. Whether you are looking to relocate a large single item, the contents of your home, a large office or even a factory we can help. To get all the information on our comprehensive removals, packaging and storage services in Ferndown get in touch today. You can do this by calling us on 01202 499 390 or by emailing us at sales@pardyremovals.com. 
Why Choose R.H Pardy Moving & Storage LTD for Residential and Commercial Removals in Ferndown
As a professional removals company in Ferndown, we can deliver a complete range of services that have been refined over the last 90 years. We are fully insured for the removal and storage of a wide variety of items from your home or business. We also have access to a complete range of modern and effective packaging materials. This means that you can rest assured your possessions will arrive at your new home or business safely.
Here at R.H Pardy Moving & Storage LTD, we are proud to be regarded as one of the most trusted removal firms in Ferndown. This reputation has been gained by providing outstanding customer service over a long period. By assisting with packing we can ensure that even fragile items are transported in complete safety.
We understand that in some cases you may need somewhere to keep items either in the short or long term. If this is the case we can provide storage solutions in Ferndown at competitive prices. Our professional team can relocate you whether you are moving locally, elsewhere in the UK or to the other side of the world. So, if you are looking to relocate to a new home or business premises, contact us today for a quotation tailored to match your exact requirements.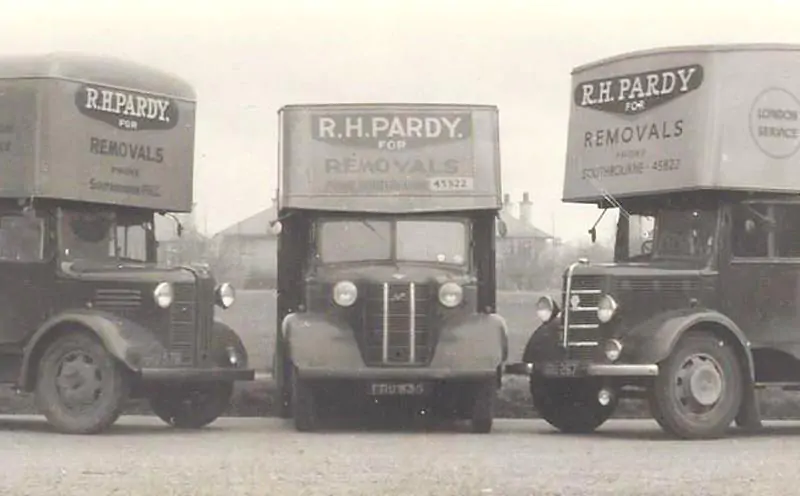 Everything You Need In One Place
Here at R.H Pardy Moving & Storage LTD, we deal with everything from local home removals to international relocations. As such we can provide all the packaging materials to ensure your possessions arrive safely and fully intact.
We can provide commercial and domestic customers with a bespoke removal service in Ferndown that complies with their exact requirements. This comprehensive service has led to us becoming the leading removal company in Ferndown and the surrounding areas. By employing the services of our experienced removal specialists you can remove any stress from your home or business move.
Flexible Long and Short Term Storage in Ferndown
By offering a range of storage solutions, we can help with the storing of all manner of valuable items in our secure compound. No matter whether you want to store your treasured items for several weeks or months we are here for you.
We are proud to be able to offer the best available storage facilities in the area, meaning you can rest assured that your items will remain safe and sound at all times.
Trusted Removal and Packaging Company in Ferndown
Are you in need of a reliable removal company that will manage the relocation of your home or business safely and efficiently? If so, look no further than our team at R.H Pardy Moving & Storage LTD who will provide you with unrivalled service. This means you can relax in the knowledge that your possessions are safe in our hands.
Here at R.H Pardy Moving & Storage LTD, we have a wealth of experience in Commercial and domestic removals that spans ten decades. This means we are a removals company that you can trust with the valued possessions from your home or business.
House Removals & Commercial Removals
When looking to relocate your home or business you must use the services of a professional removal and packaging company. Here at Pardys, we offer our customers a complete service that ensures the safe transportation of your items from one location to another.
Picking a reliable removal company isn't always an easy task, however, our years of experience and fully trained staff make us the ideal choice. Our professional team will help make sure that your items will be moved safely to your new home or place of work.
No matter how big or small your move is contact us today for a free no-obligation quote.
Here at R.H Pardy Moving & Storage LTD, we pride ourselves on offering the number one house removal services in Ferndown. Our experienced team specialise in house moves and as such can deliver all related services including packing and storage. We can provide an all-inclusive service that will take away all the stress normally associated with moving house.
As experts in the handling of all types of valuable items, our techniques have been refined over the ten decades we have been trading. So, to employ the services of the number one removals and packing company in Ferndown get in touch with our friendly team today.
We'll Take Care Of Everything
Our comprehensive packing services in Ferndown does much more than make your possessions easy to transport. By taking the utmost care and attention, our professional team of removal specialists will ensure even delicate items such as precious antiques or ornaments are guaranteed to be transported safely.
Find Out More